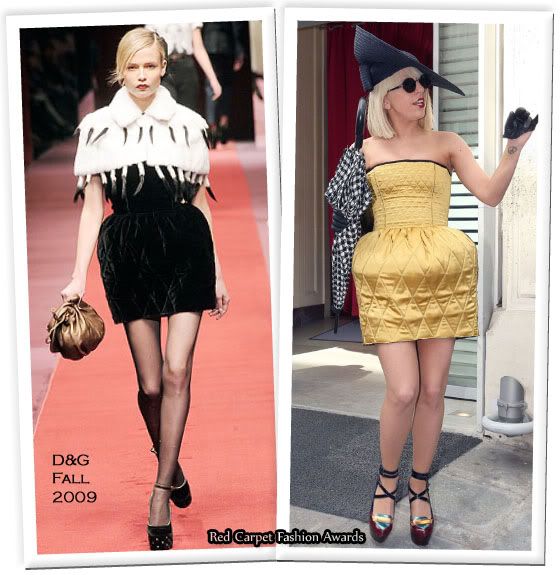 Either she loves to express herself with fashion, or she's loving the attention, either way Lady Gaga is always very entertaining to watch.

She has been whipping up a storm in Europe, with her barely there ensembles, eye-poking hats, and china doll make-up inspired by the Christian Dior Fall 2009 collection.

Earlier today, she was spotted taking in the sights of Paris, wearing a strapless satin quilted D&G Fall 2009 mustard dress, when visiting the Grand Palais museum, to see the exhibition of Andy Warhol.

I will guess when she entered, no one was looking at the exhibition, and all eyes were on her.

Her look was completed with sky-high heels, which Victoria Beckham would scratch Lady GaGa's eyes out for, a well place D&G clutch, and a houndstooth umbrella, which could be from the Alexander McQueen Fall 2009 collection.

I love this picture. The caption writes itself.

"Does my bum look big in this?"