Whilst we've been drooling over Drew Barrymore's red carpet adventures, Zoe Saldana has also had an outstanding week, promoting Star Trek in Europe.
Her best moment came last night at the Berlin premiere, where she wowed everyone wearing a red Prabal Gurung Fall 2009 cocktail dress, with Bulgari jewels which included a yellow gold and diamond pave Celtaura bracelet, and yellow gold and diamond pave earrings.
The asymmetrical mini dress had a large exaggerated folds on the shoulder, and a tiered skirt.
Her look was completed with a updo, and black strappy Pucci heels.
Best Dressed Of The Week just got even tougher.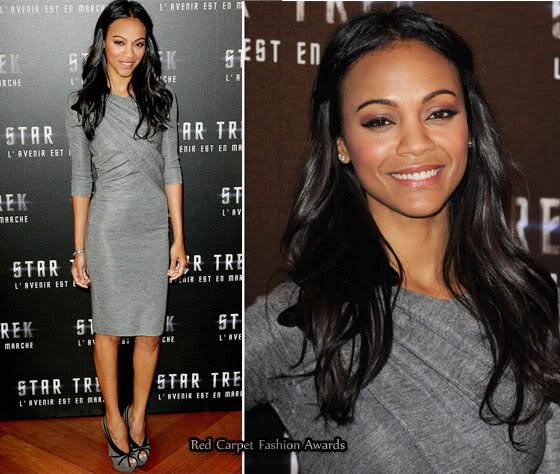 Earlier in the week Zoe also looked gorgeous at the Paris photo call for Star Trek, wearing a charcoal grey Giambattista Valli sheath dress, which had a criss cross bodice, and stunning Fendi grey heels.
Another magic moment came at the Moscow premiere. Zoe amped things up a notch, by wearing a stunning Jasmine Di Milo Fall 2007 nude dress, with a black tulle overlay, which creates an interesting design.
Sparkling Giambattista Valli heels completed the look.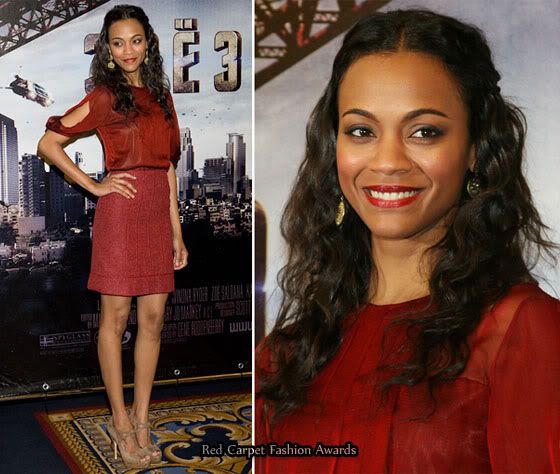 She started off the week in a Akris Pre-Fall 2009 berry ensemble consisting of a chiffon blouse, with cut-outs in the sleeves, and a tweed skirt to the Moscow photo call.
What a fantastic week.