Many regular readers know me so well, but I think I know a lot of you regular commenter's too.

I will guess some of you: David, T, Leo, Robbie and Whitestroke, will hate this, but Zoe aka drinksupfashion, and maybe Freida Fan will love it.

There is always a great fashion debate when I comes to Beyonce, and I'm sure her wearing this Balmain Crystal-embellished canvas jacket from the Spring 2009 collection, will prove no different.

I personally love it, she wears it well, and most importantly she doesn't try to over dress it like Rihanna would.

Rihanna would have worn the studded heels, and ripped jeans with this look, just to force down our throats how 'fashionable' and 'edgy' she is.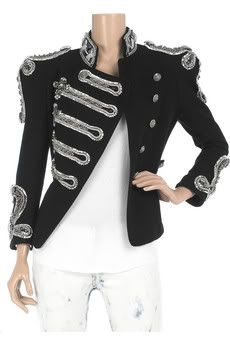 Beyonce wore this jacket when she enjoyed a romantic evening with her husband in New York last night, whilst carrying a Vera Wang bag.

The black cotton blazer has jeweled Seargeant Pepper detailing, a metal and crystal detailing on the collar, shoulders, cuffs and on the front.

What I love are the classic military asymmetrical front closures with heavy jeweled detailing, and of course the sculpted shoulders.

Somethings got me wishing Michael Jackson would have worn this jacket first. It has his name written all over it.

You can buy this extravagant jacket from Net-A-Porter's US site for $11,410.

Source & Source