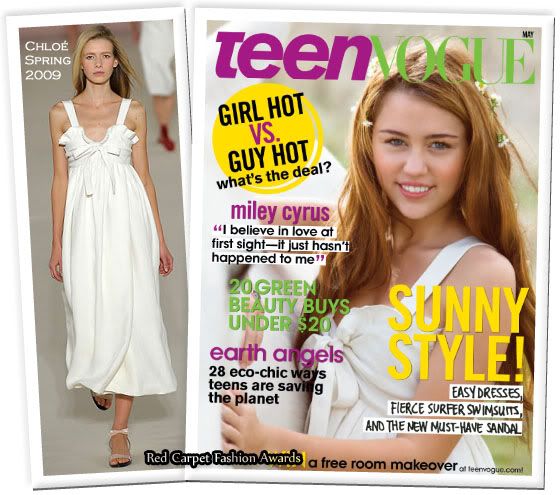 For the first time ever, I'm totally in love with Miley Cyrus. Her cover and editorial for the May 2009 edition of Teen Vogue, has her looking cute, and age appropriate.
I love the hippy/bohemian feel to the shoot, the daisy's in her hair, and the picture of her on a horse.
Miley will begin shooting her first dramatic film this summer, a role Nicholas Sparks (author of The Notebook) wrote specifically with her in mind. "I'd like to do something like Revolutionary Road or Garden State next," Miley muses. "I definitely want to be more challenged."
Here are some more extracts from her interview:
On her fellow Hollywood stars: "Jude Law is so adorable in 'The Holiday', Javier Bardem, is so sexy, and Gerard Butler. You've seen him in 'P.S. I Love You', right? My favorite. I bawled my eyes out. Scarlett Johansson. She is, honestly, the most beautiful girl I've ever seen. I went to 'He's Just Not That into You' with Justin, and I was covering his eyes. I'm not a huge Rob Pattinson fan. Girls aren't really in love with Rob; they're in love with Edward."
On love at first sight: "I believe in love at first sight. It just hasn't happened to me. The first time I saw Justin, I walked right by him. Love doesn't come from attraction, but from somewhere deeper. [Justin] is my best friend."
On writing with BFFs Demi Lovato, Selena Gomez, or Taylor Swift: "Demi and I are the most alike. I like to keep my friendship separate. Otherwise, competition starts."
This issue hits newsstand April 14.
You can shop Miley's shoot by buying her See by Chloe floral smock dress from Net-A-Porter's US site for $600, or the international site for £345/€445.