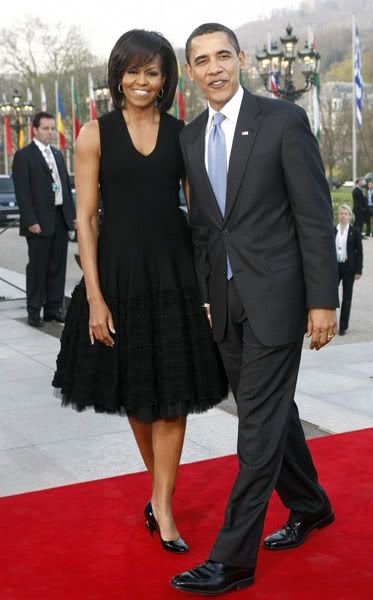 President Barack Obama and Michelle Obama arrived for a cultural event during the NATO summit in Baden-Baden this evening.

Michelle Obama has embraced many designer this week. Tonight she wore a classic black Azzedine Alaia dress, with a ruffled skirt which had a tulle underlay.

The heels have gone up a few inches, which I'm thankful for, because flats or kitten heels wouldn"t have looked as elegant with this dress.

Before covering up with a cropped cardigan, she exposed her arms, which for some reason has caused great debate in the past.

I'm hoping you guys will like this look, because the overall feeling is that you have been disappointed by her this week.

Carla Bruni-Sarkozy was also at this event. She was wearing a custom-made

Christian Dior Fall 2009

sheath dress.

The dress shares the same embroidered detail, as a jacket which appeared on the runway.

The Dior flats again, kill this look for me.
Source & Source