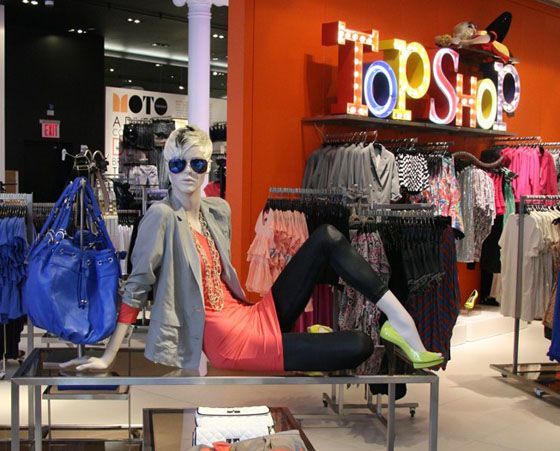 After all the hype and the delays, British clothing retailer Topshop, will open its first US flagship store in midtown Manhattan this Thursday.

The opening coincides with Kate Moss' new collection for the brand, which this time will include lingerie.

The Manhattan store mirrors the Oxford Circus flagship store in London, with four-levels packed full of sexy sequined dresses, feathered jackets, a variety of jeans, Freedom accessories, and shoes.

The plan is for daily deliveries and 100 new items a week, so you will keep going back, which is one of the reasons I love the London store so much.

If you don't live in the US, you can take a look inside the store, with Sir Philip Green.

The Guardian has come up with a handy survival guide for the opening:

• Bring reinforcements, ideally two disinterested parties – one to wait in fitting-room queues while you riffle through the rails of itty-bitty Kate Moss frocks, and another to stand with arms ready to catch said frocks as you hurl them over the heads of your competitors. Fellow shoppers, that is.

• Wear layers, or leave your shame at home. Anyone lacking the aforementioned queue assistant will be in for a long, long wait for the fitting rooms. Far more efficient, then, to find a discreet corner, strip, and try on your super-skinnies in full view of the women who wish they'd thought of it first.

• Don't be afraid to push. They're not your friends, just a horde of Alexa Chung imitators. And if they are your friends … why did you bring them?

• The sales assistants do not exist to "assist" you. Rather, they are present to demonstrate how to wear a £10 shoelace as a headband. Nothing betrays novice Topshop status like asking for help. Don't be that girl.

• Grab everything. Even if you're not sure you like it – because later, when you see someone else trying on that neon leopard-print playsuit and begin to think that it might be just the thing for an ironic day at Coney Island/Central Park picnic, there's no way you'll be able to find it.

• To beat the crowds, shop online. It'll leave more space for the rest of us.

The store is located on the corner of Broadway and Broome st. and opens on April 2nd at 11am.

Kate Moss will be there.