In a photo shoot for Allure magazine's April 2009 edition, Cindy Crawford looks outstanding, as she energetically tears up a loaf of white bread, whilst wearing a cut-out Hervé Léger by Max Azria Spring 2009 bikini.
The supermodel is seen in a number of different shots for the 'anti-aging issue'. Each of the images represents a different tip to maintain youthful looks.
According to the captions those wanting to maintain their youth should focus on achieving:
'the youngest looking smile: White, even teeth, and pin, healthy gums,' and 'hair that's strong, shiny and vibrant looks youthful, regardless of its colour.'
Here are some extracts from her interview:
On her body: "I think I look pretty good for 43, but I don't look the way I did when I was 23. I do have cellulite, I never said I didn't. I've had two kids and I'm 43, so leave me alone!"
On the reason she takes most care of her hands: "In LA, there are 65-year-old women walking around in Juicy sweatpants, and from the back, you'd think they were 20. But when you see their hands or their neck, you know."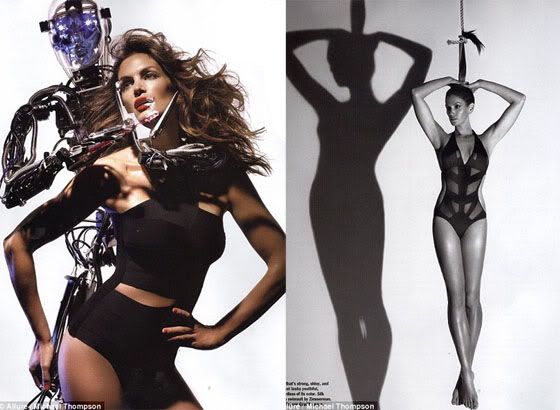 In the picture to the right, Cindy is wearing a Zimmermann halter neck swimsuit, which is available from Net-A-Porter for £299/€366.93, and $450.