Lilia Luciano's peachy strapless Nicolas Felizola gown is exquisite. I love the piece that falls from the waist, and the double lined bodice.
Ilia Calderon wore the same Oscar de la Renta Spring 2009 strapless gown which Amy Adams wore to the Golden Globes.
Lili Estefan, the niece of Gloria Estefan, looked outstanding wearing an ice blue Gustavo Cadile gown.
I love the sparkling embellishments on the hem an the matching clutch.
One of the best of the night.
Scarlet Ortiz is gorgeous, but her green Nicolas Felizola asymmetrical gown is outstanding. I love the shredded pieces of fabric cascading down her train, and on her shoulder.
Bárbara Bermudo dressed her baby bump with a elegant Rafael Cennamo black strapless gown, which had quail feathers decorating the bodice.
Karla Martinez also opted for a Rafael Cennamo strapless gown. This sweetheart lined purple gown really showed off Karla's sexy curves.
Ana Maria Canseco went against the strapless trend, and opted for a Gustavo Cadile ivory gown, with delicate embroidered beads around the bodice.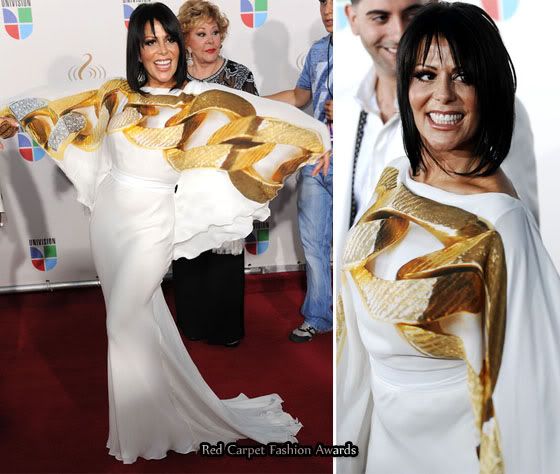 Singer Alejandra Guzman showed us how far her Roberto Cavalli Silk chain print gown would span. This shows us how fitted the gown actually is.