"Late Show with David Letterman", New York
Gossip Girl actress Blake Lively finally gets it right.
She was looking ravishing in a mini pink Diane von Furstenberg dress, and gold Jimmy Choo's for her appearance on Letterman this week.
I don't even like one-sleeved anything, so for her to make me love this look, is even more impressive
Hot colour, hot look.
"Skellig" London VIP Screening
Kelly Macdonald wore a lace necklined Collette Dinnigan Spring 2009 LBD.
I love the silver beaded shoulders, which gives the dress a slight edgy Balmain-eqse feel to it.
EcoMom's Sowing Hope In Congo Party, LA
Nicole Richie wears another look which is very typical of her earth-mother/boho style.
This white kimono sleeved maxi, is covered in an interesting pattern.
Kerry Washington teams a black pencil skirt, with a green Missoni Fall 2008 v-neck sweater.
It looks like she is wearing the same Choo's as Blake Lively above.
The Ivy, LA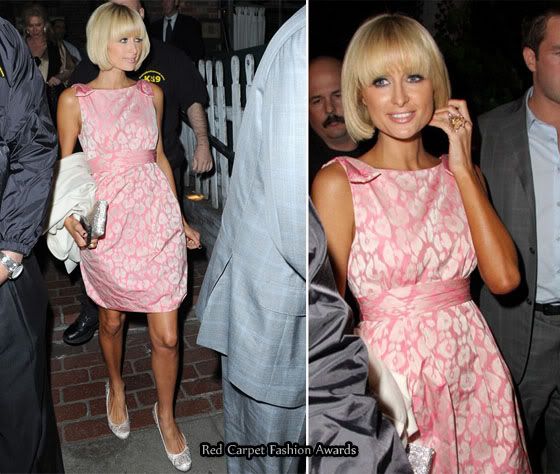 Paris Hilton looks pretty in pink – for a refreshing change – as she leaves the Ivy after dinner with her new boyfriend Doug Reinhardt and her parents.
Paris' floral tulip-skirted dress is gorgeous. I really love it.
She teamed her dress with silver pumps for this sweet look.