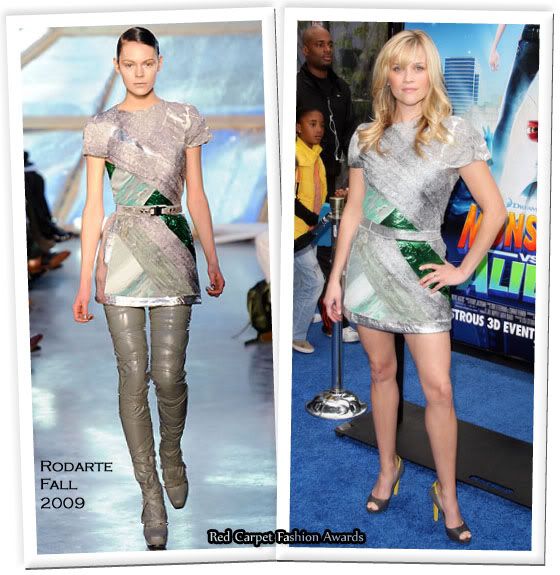 I almost fell of my chair when I saw pictures of Reese Witherspoon wearing this space-aged

Rodarte Fall 2009

silver and green dress, to the

Monsters Vs. Aliens

LA premiere today.

Reese did wear a modified Rodarte gown to the 2009 Oscars, but I never expected her to wear one of their edgier pieces.

No offense to Reese, but Rodarte is for those with a bit of an edge, like Tilda Swinton, Cate Blanchett and Keira Knightley. But saying that I'm presently surprised with this effort.

I love her Balenciaga heels. The grey peep-toes, with the yellow heels are a nice touch.

The only downside for me is the hair.

The hair and the dress don't quite work well together. You have a "soccer mom" type hairstyle, with the "Downtown New Yorker" dress.

Her hair pulled back in a tight ponytail, would have sexed up this look, and may have worked better imo.

If she wanted to try something new, she should have gone all the way.

Source & Source