For some unknown reason, there's not one single full length picture of Katie Holmes at the Japanese premiere of

Valkyrie

, and I have looked everywhere.

It seems like the photographers were more interested in her hair extensions, than her Jason Wu Fall 2009 dress.

I would have loved to have seen this dress full length, because this is a first time in a LONG time that Katie hasn't dressed like a 60 year old woman – no offense.

The two tone strapless dress is colourful, young, fun and to be honest totally unexpected, plus I love the embellished bodice.

My hopes for the full length is that she is not wearing tights, nor kitten heels.

Hopefully someone will upload a full length soon, and I will update this photo.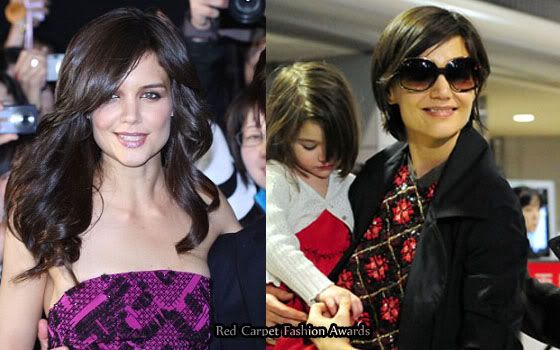 Onto her hair. Katie arrived in Japan on Sunday with what's become her trademark bob. Cut to today, and she hit the red carpet, with a fresh new 'do.

As much as I liked the sophisticated bob, the longer locks I'm in love with. The reason is because I am hoping this will be a kick-start of a fresh new look for Katie.

It's time she started dresses her age again.

Here hoping.