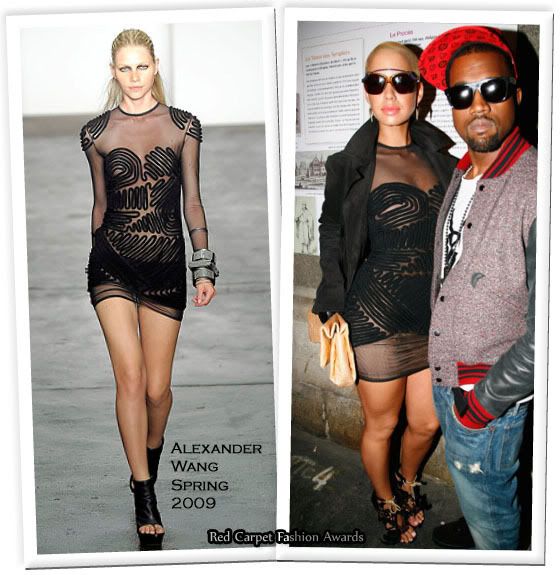 Kanye West and his girlfriend Amber Rose were in Paris attended the Fall 2009 shows.

I don't know much about Amber – even goggle doesn't know who she is, so if any of you can enlighten me, I would really appreciate it.

The couple attended the Hussein Chalayan, Sonia Rykiel and Givenchy shows, she wore an Alexander Wang Spring 2009 dress.

The risky dress is completely sheer, with a few strategically placed black embossed swirl coils. Another feature is that the mini dress has cut-out thumbs at the sleeves.

I have only seen 2 other girls wear this dress, and they included Erin Wasson, and Sarah Harding.

If you have the guts to wear this dress, you can buy it from Barney's for $995.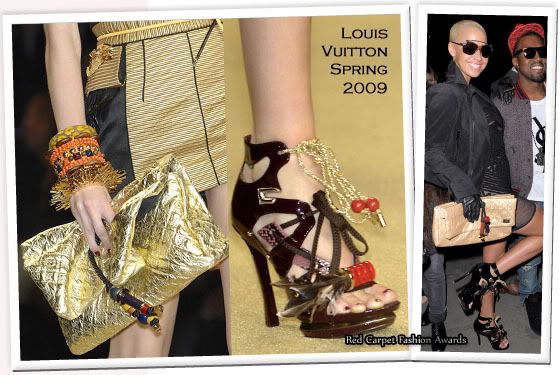 Amber completed her look with

Louis Vuitton

accessories, which included an updated Limelight clutch for Spring 2009, and a pair of black tribal heels.

Not my cup of tea, but she is working the hell out of this look. Kudos to her.