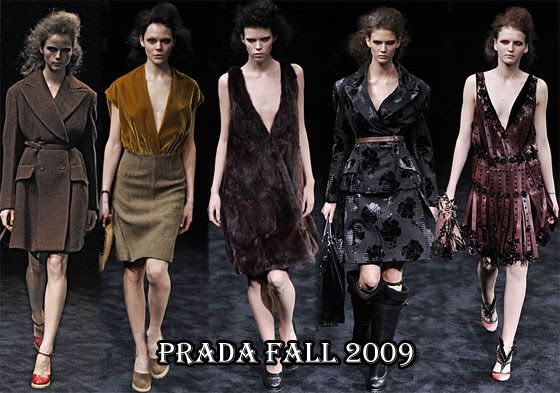 At first I didn't love the
Prada 'Lace' Fall 2008
collection, but after seeing it on the red carpet, it grew on me very quickly. Somehow I don't even think Cate Blanchett can make me fall in love with the
Prada Fall 2009
collection.
The are a few nice pieces here and there, like the finale studded dresses, and the leather trench coats, but overall, it wasn't to my taste.
The thigh-high fly fishing boots were bizarrely matched with winter shorts, and I can't see the Captain Caveman fur look, being worn by the most fashion forward magazine editors.
The colour palette consisted of black, rich reds, browns and mustards colour.
I can't wait to see who can make this work.

Source