"Marley & Me" Paris Photocall
I found it really funny that lot of you sent me the picture of Jennifer Aniston in this Balenciaga floral dress saying 'OMG have you seen Jennifer Aniston wearing….?', and I share your shock.
This is now twice in a row, that the actress has brighten up the red carpet, in a colour other than black, and doesn't she glow?
OK the brown suede Christian Louboutin Orlan double platform T-straps booties, wouldn't be my choice to wear with a floral dress, neither would the tights, but I don't want to criticize her too much, incase she reverts back to black.
2009 Bent on Learning Benefit, New York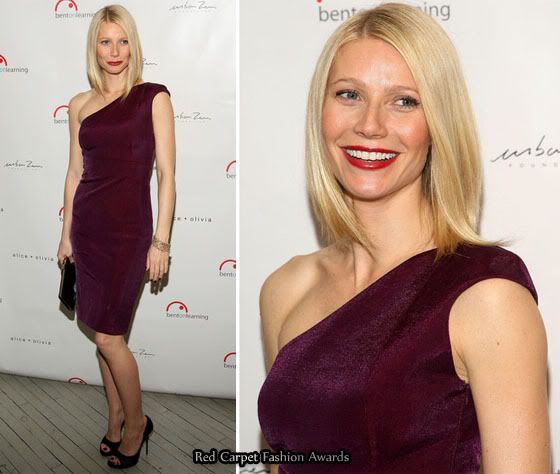 It's not usual for us to see Gwyneth Paltrow wearing such a deep berry shade lipstick, but it worked perfectly with her burgundy Jasmine di Milo one-shouldered dress.
Gwynie looks really vibrant in this dress, like she is ready to have a good time at this event. Usually I get a duty vibe from her, but not on this occasion.
She completed her look with Roger Vivier shoes and clutch.
"Good to Great Hair" Book Launch, LA
Debra Messing has recently gone through a stylist switch, after Rachel Zoe wasn't doing her justice. Saying that I'm not sure this Bottega Veneta Spring 2009 leather belted dress is doing her any favours either.
I think the square cut neckline makes her appear broader than she is, as do those extra pieces of leather on each side.
Something more streamlined, would have suited Debra much better.
Salma Hayek's choices continue to go downhill. The gypsy skirt is so wrong for her.

Source