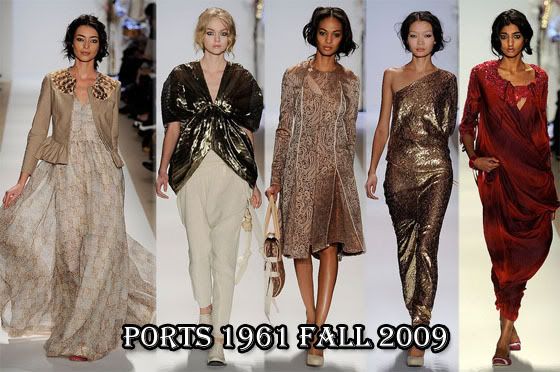 My second to last show at

New York Fashion Week

was Tia Cibani's Ports 1961 Fall 2009 presentation. This collection took us on an exotic journey, and that journey was to India.

A Red Baraar Festival!, a Punjabi band started off the show, to get us in the mood.

The models walked the runway with the soothing beats in the background, wearing clothes inspired from Tia's recent Indian travels. Long, short and glorious lame Sari dresses, Achkan coats, cropped Angarkha jackets, Salwar pants and a stunning ruby ombre jewelled dress were presented.

The exotic colour palette included ruby, henna red, saffron orange, jasmine white, moonstone grey and begonia pink.

The collection took a sophisticated approach on the vibrancy of India's regal past.

I think a lot of these pieces will be timeless.