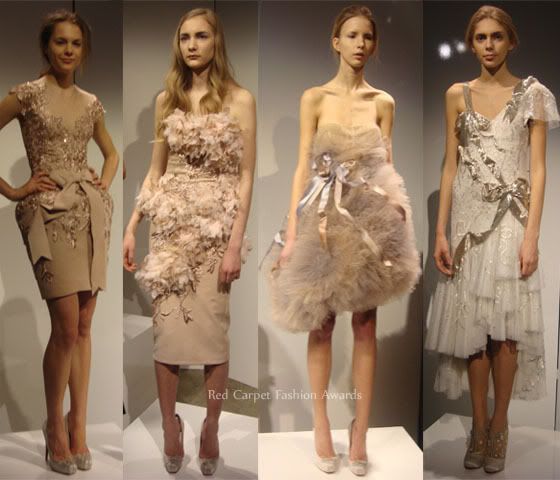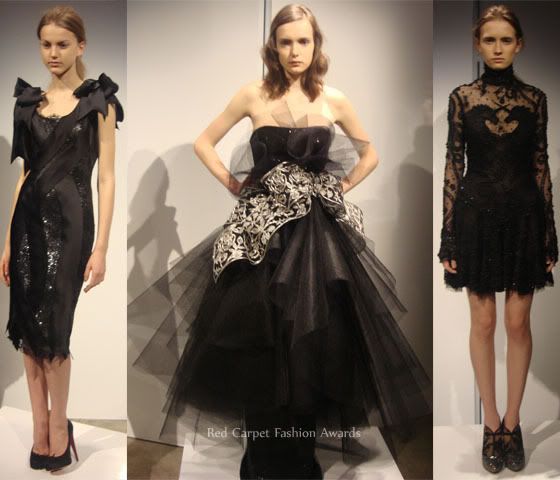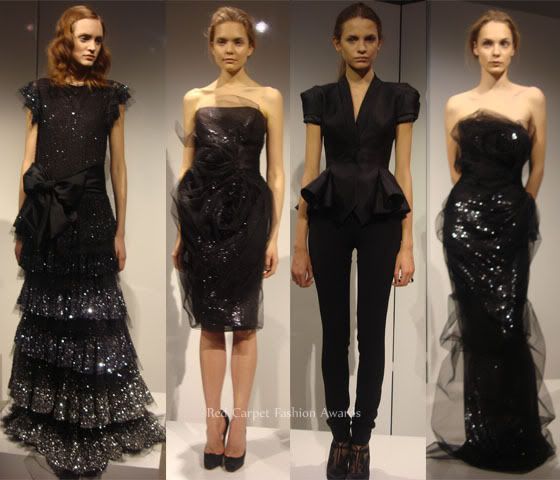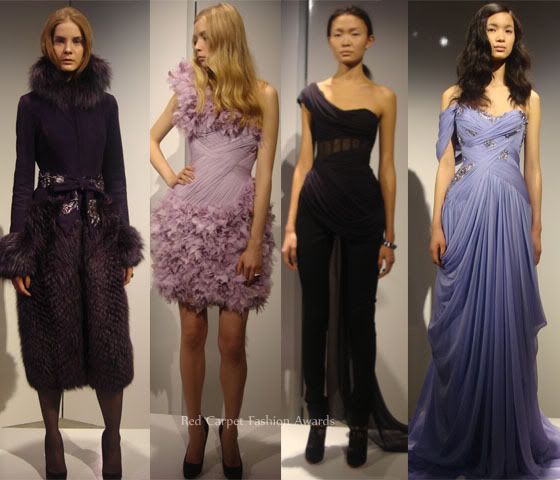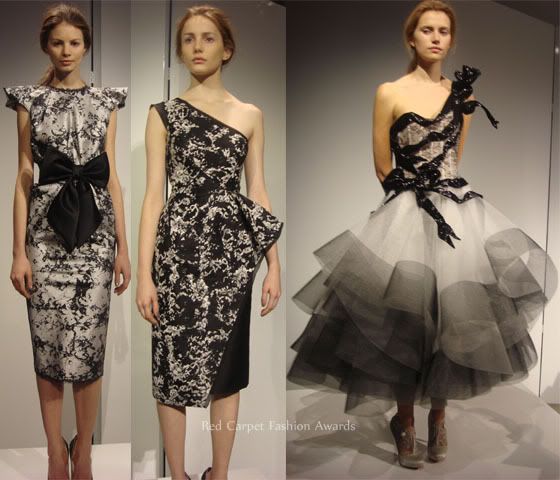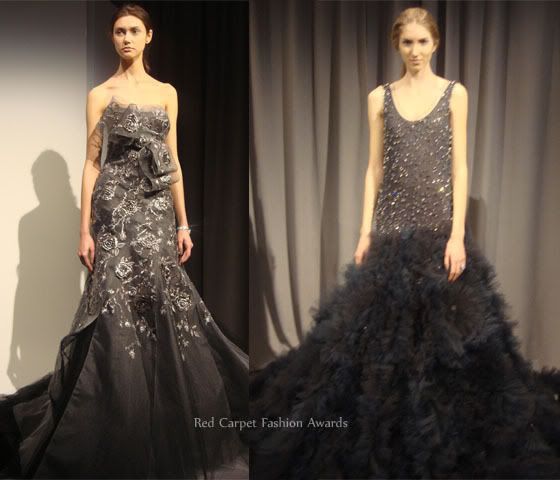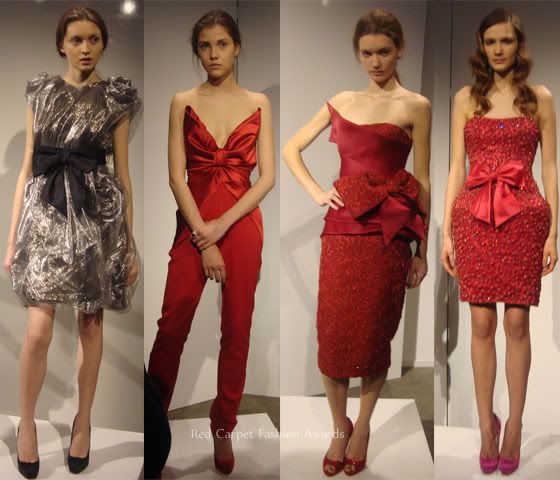 When I received my invitation for the

Marchesa Fall 2009

collection, I knew the presentation would exceed all my expectations, and it did.

It was a cold and rainy day, but once I entered the Chelsea Art Museum, where the collection was presented, it was like being transported into a fairy tale wonderland. A wonderland consisting of fou fou cocktail dresses and evening gowns with many layers, mounds of tulle, embellishments and satin bows.

Models were perched on pedestals, like works of art – which they were – at a gallery. This enabled us to look at the clothes up close, and get to see them from all angles.

First up were a selection of 3 nude dresses. All beautiful in their own unique way.

The colours seemed to be grouped together as I made my way around the museum. Those colours ranged from nudes, to blacks, to plums, to greys to scarlet.

I loved so many of these pieces I found it hard to pick just one. The lilac chiffon draped strapless dress was one, and the glittering black gown, which had a black satin bow, and a tiered silver embellished skirt was another. I would love to see that gown on Anne Hathaway this Sunday.

I said Hi to Georgina Chapman, who is impossibly beautiful in real life. She greeted me like an old friend with two kisses on each cheek, and shaking my hand, which was so sweet.

I told her about my blog, and she said that I was in the right place, and I couldn't have agreed with her more.

I asked her if we will see any of these gowns on the red carpet on Oscar night, to which she replied "I hope so. It's all so nerve-racking. You hope an actress is going to wear your gowns. But in the end you have to wait to see what she arrives in on the red carpet."

I don't know about you, but after looking at this collection. I think it is safe to say at least 3 will make it on Sunday.

This was my best experience this week.

As I said, impossibly beautiful Georgina Chapman, the designer of this collection, looked stunning in an all black self-designed ensemble. Her black sheer tunic was embellished, and her black satin capped sleeved jacket and pants, were presented in this Fall collection.

Her partner Keren Craig also wore black, but her sheer tunic was embellished around the neckline.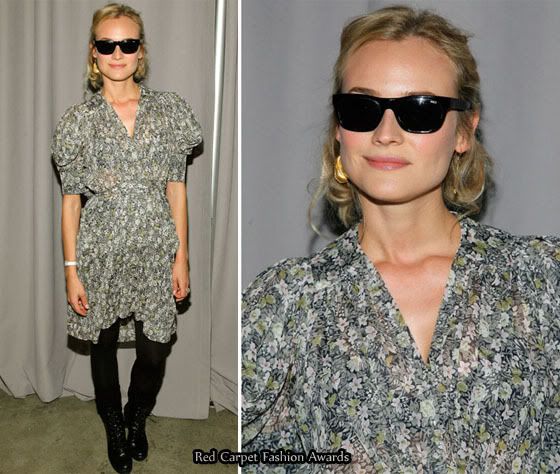 Shame on you Diane Kruger for wearing glasses inside, especially when the rooms were so dimly lit.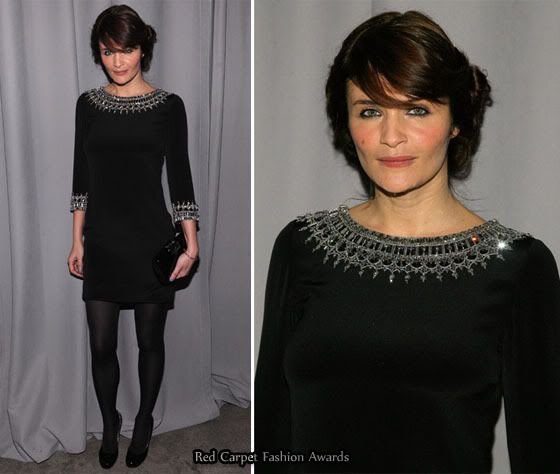 Helena Christensen smouldered in a black tunic

Marchesa

dress, with embellished details on the neckline and sleeves.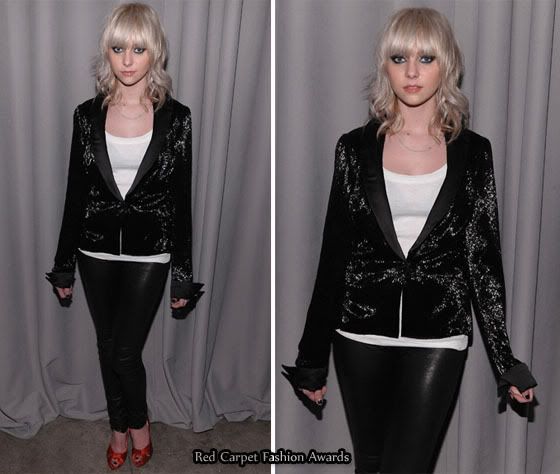 You would not know it by looking at this picture, but Taylor Momsen was wearing a lot of make-up. I guess it was stage make-up that doesn't looked caked on in pictures and on TV.

She wore a sequined Marchesa blazer with a white tank, leather pants and red Louboutin's.