My pictures from the

Pamella Roland Fall 2009

show, which I attended yesterday are really bad, so I'm waiting for the professional pictures to come through.

Before the show, the pre-show began when Paris Hilton came from backstage to walk to her seat. The paparazzi and guests of the show swarmed her and her sister. I kinda felt sorry for the other celebs, because none of them received this high level of attention.

Paris was in her element, lapping up the attention and posing wearing a cute Pamella Roland Spring 2009 grey sleeveless dress, with a white collar and tie detail.

You will be happy to know she removed her sunglasses before the show started.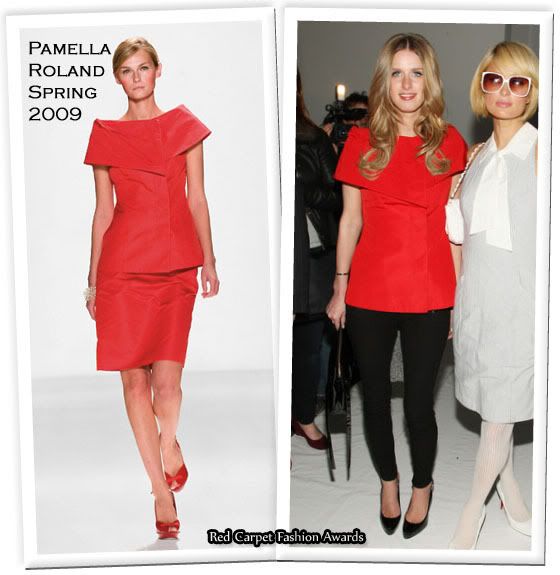 Sister Nicky was similarly unfazzed by all the attention. She wore a red jacket, which had a structured collar, with black pants.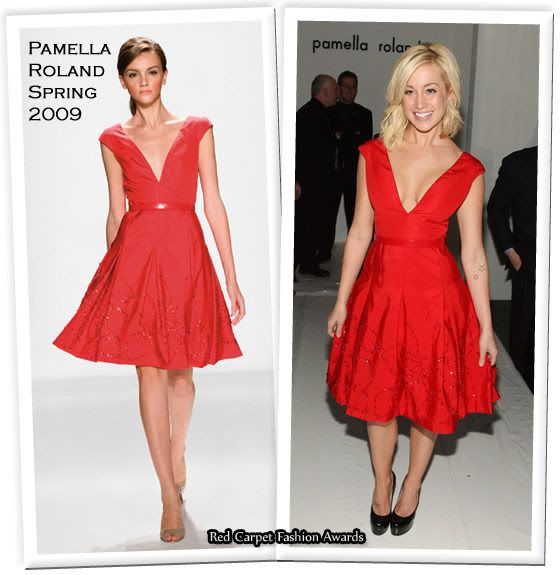 Kellie Pickler caused the second greatest stir in the front row. She has become the darling of fashion week, and for this show she wore a cute red belted dress with a full skirt.

The skirt was detailed with floral embellishments.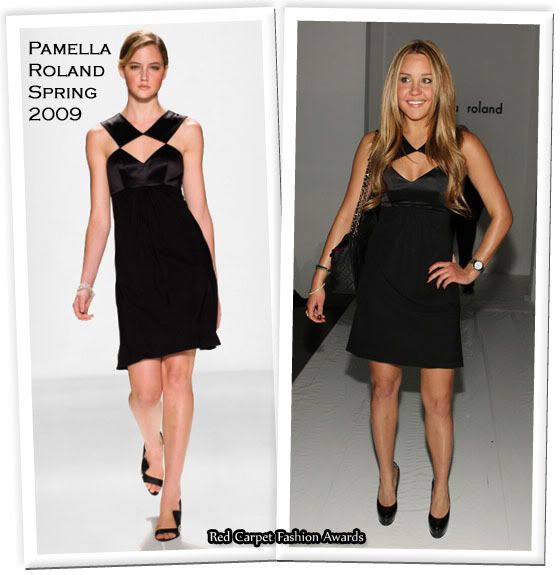 Amanda Bynes was much taller than I would have thought, and she looked fabulous wearing a black haltered keyhole dress.

I have been reading your comments about Amanda's hair, and I think it's hilarious that you share my pain about her hair.

Back in July 2007, I did a post called The Never Changing Hairstyle Of Amanda Bynes. Cut to 2009, and her hairstyle is still the same.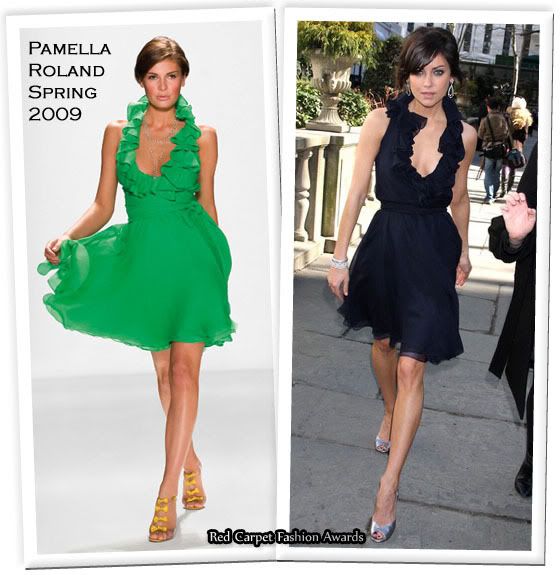 Jessica Stroup arrived without a coat – brave girl – showing off how fabulous she looked, wearing a navy silk chiffon

Pamella Roland Spring 2009

dress, with a ruffled plunging neckline, which she wore with silver peep-toes.

*brrr*

Kristen Bell slipped in wearing a red sheath

Pamella Roland Spring 2009

dress, which she wore under her leather jacket.

Katrina Bowden wore the cutest, sun-shiniest mini dress she could find from the

Pamella Roland Spring 2009

collection, and it fits her style perfectly.

The strapless dress was embellished with silver crystals, which complimented her heels.

Michelle Trachtenberg quite clearly was not in the mood to play dress up.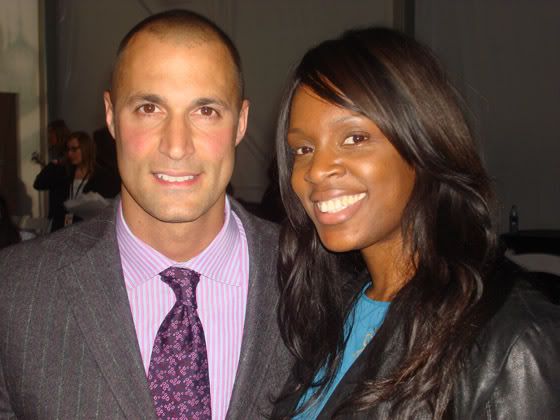 I was not in the front row, but the gorgeous Nigel Barker was. Even though I have seen so many celebrities this week, I have not asked for pictures or autographs, as I'm sure it gets really tedious for them.

But when I saw Nigel, I just had to grab a second of his time. He is even more gorgeous in real life and very charming. *Swoon*

He took his mother to the show. You love him more now don't you? *sighs*