The

Narciso Rodriguez Fall 2009

collection, was not what I expected.

I have become so used to the criss cross signature dresses, I expected more variations. There were faint touches of this signature, but without the black detailing.

The theme was urban warrior, hence the bullet belts, camouflage fatigue, and the open balaclava's.

What contradicted the urban warrior theme, were the bright colours of yellow and pink, which were referred to in the notes as, highlighter pink and yellow.

Cocktail dresses, bandages dress, jackets, pants and coats were all presented in mostly dark or neutral colours.

With the lack of red carpet gowns, I got my buzz from the cocktail dresses. My favourites were the gorgeous red and green cocktail dresses, which were camouflage-esqe with a black lace overlay.

This was a very enjoyable collection, which I would like to at movie screenings, premiere's, parties and openings.

I just wonder who will be first to wear this collection. Claire Danes or Rachel Weisz.


The way the runway was layout was really interesting.

The lead model would cross over to the adjacent runway, whilst a following model would catch up, and they would meet at the end of the runway to pose for the photographers.

I wasn't sure if you would get my drift, so I taped some of the action.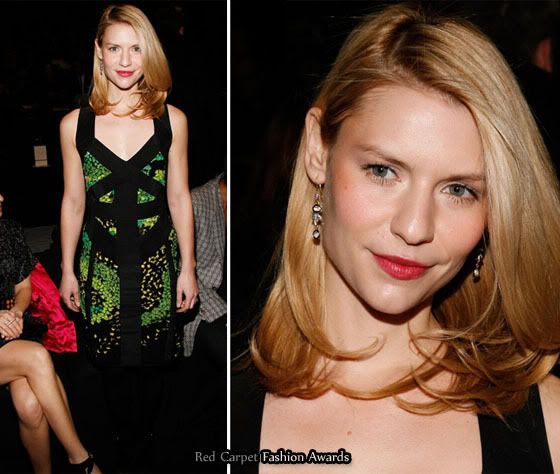 As I said in my previous post, Claire Danes wore a Spring 2009 green dress, with black criss cross details. What can I say other than stunning.