Tonight – if you are in US or last night if you are in Europe, I attended the unveiling of Matthew Williamson new store located in the trendy Meatpacking district.

The store's design retains the vintage inspired feel associated with the London Bruton Street store.

When you walked into the store and past the mannequins in the windows, and hanging from the ceiling you come upon a runway-like walk way, which had alcoves on each side housed with accessories such as shoes and handbags. As you made your way to the back of the store the collection was presented on a large circular rail in the middle of the room with clothes also along the back of the wall.

Walking into this room I instantly thought of it being the idea location one of Austin Powers swinging 60s parties, as it oozed that kind of sexy 60s vibe.

Many celebrities were there to support Matthew Williamson including Lindsay Lohan wearing Pre-Fall 2009, Katharine McPhee in Resort 2009, Lily Collins in Spring 2009, Joy Bryant in Resort 2009, Rachel Zoe in Spring 2009, and Heidi Klum, who I missed whilst getting another glass of champagne.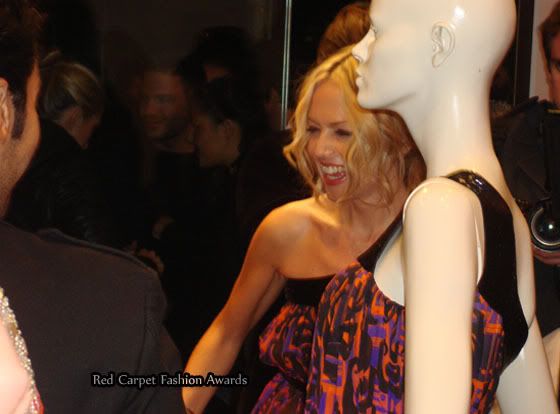 Rachel had a very comical moment when she entered the store. The Spring 2009 gown she was wearing, was the same gown as the mannequin in the store window. She was graceful enough to laugh off incident. I bet she was happy it wasn't another party goer.

Lindsay was very interesting to watch, she loved posing for pictures, and in real life she is even smaller than you would think. Had there been any canapés, I would have bee tempted to force feed her.

Her sequinned dress from the Spring 2009 collection was stunning, even though she was tiny in it.

All these pictures were taken by me, but I will upload the professional ones once they are added to picture agencies, so you can see the full ensembles.