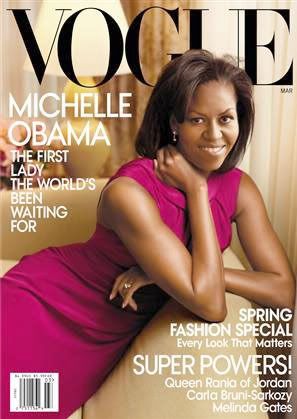 The first lady of American fashion – Michelle Obama – grace the cover of the March edition of US Vogue.
Annie Leibovitz shot the cover, of Michelle relaxed wearing a magenta silk sheath dress by Jason Wu, who also designed her inaugural gown.
Michelle is the second first lady to be on the magazine's cover, after Hillary Clinton.
The magazine dedicates 8 pages to Michelle, who describes her role as "mum-in-chief" to 10-year-old Malia and seven-year-old Sasha.
"I'm going to try to take them to school every morning, as much as I can," she said.
When the topic moved to fashion Michelle said she was aware of how her wardrobe was being scrutinised, but she made no apologies for her choices.
"I'm not going to pretend that I don't care about it," she said.
"But I also have to be very practical. In the end, someone will always not like what you wear – people just have different tastes."
MORE FROM RED CARPET FASHION AWARDS:
Posted by Catherine Kallon on February 11th, 2009 In: Michelle Obama, Vogue