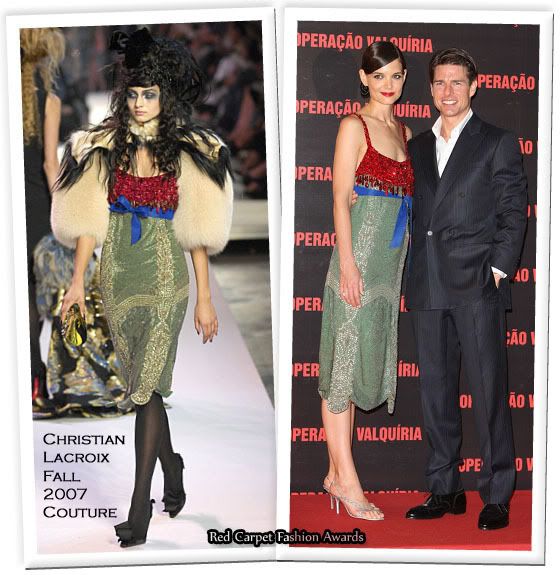 Regular readers will understand how frustrated I always get when Tom Cruise and Katie Holmes hit the red carpet. That is because they never have a second apart, so she is never photographed alone.

The couple attended the Brazilian premiere of Valkyrie yesterday.

He was in a navy striped suit, she was wearing a long green Christian Lacroix Haute Couture Fall 2007 tunic, with shimmering silver pearling, a vivid red bustier, and electric blue velvet sash tied to the waist.

I love the dress. It was a great choice, but Katie barely brings it to life.

The dress is so vivacious, charismatic and full of life, but on Katie…it's just OK. And just OK on a couture gown, which probably took 400 hours or more to create, just won't do.

Even the sash is limp. Couldn't she have found someone to tie it into a pretty bow for her?

I also think it's cut too low for her, as it exposes how thin she has become.

The red lips, and the hair I love from the front, but not crazy about the bun at the back.

This dress is being called a vintage dress. I love vintage clothes from the 50s, 60s an 70s, but to me this is 4 seasons old.

I'm not a vintage aficionado, so if any of you can let me know how old a garment has to be to be classed as vintage, I would very much appreciate it, as I was under the impression it was 10/20 years.

Source & Source