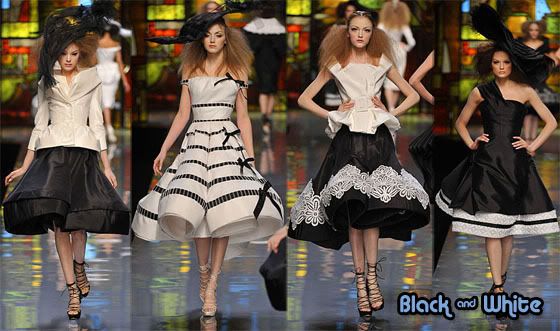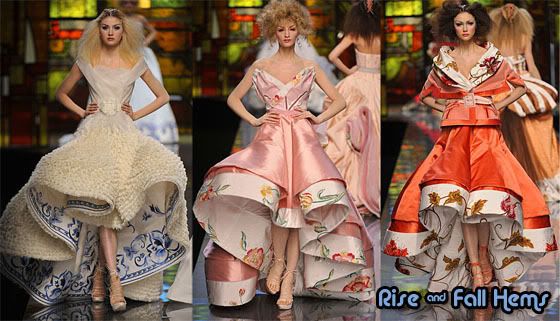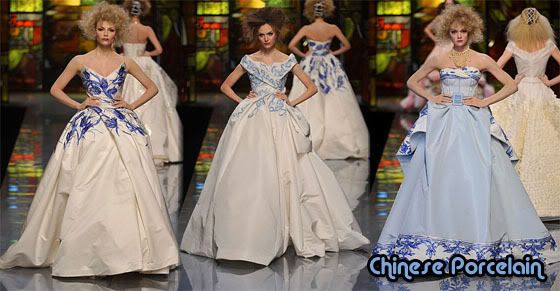 Straight after the SAG Awards red carpet comes the next big event,

Haute Couture Fashion Week,

for the Spring 2009 presentations this week.

Christian Dior was the first big designer to show yesterday. There was talk of the recession, credit crunch and economic crisis putting a dampener on the Couture shows. It looks like John Galliano, was not paying attention. Instead he focused on what he does best at – creating exquisite gowns.

It's clear that one of the inspirations of this collection was blue and white Chinese porcelain, as the distinctive print adorned many gowns.

Blacks and white, Cornflower yellows, tulip reds, powder blues, and sherbet oranges were served up on the colour palette.

My favourite pieces were those that had tight bodices that clinched in the waist, then exploded into voluminous full skirts. Lets hope they stay that way when Theron, von Teese and Mendes walk the red carpet in them.

Bouffant sleeves were featured heavily, rounding off the shoulders, but it was not all about volume. Pencil skirts and narrow gowns provided a slinkier silhouette.

There was surprisingly a lot of black and white in this collection, but fear not, it looks like the Couture shows will be just as fabulous as ever.