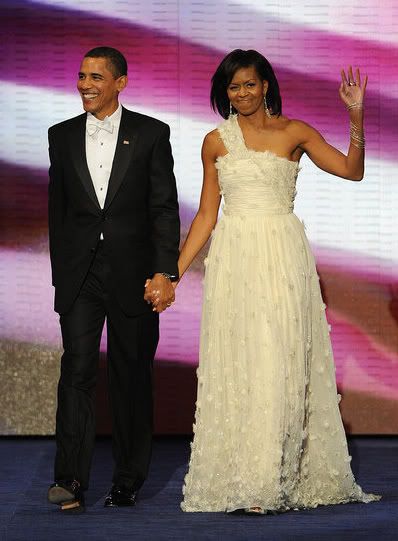 I knew she would surprise us. Michelle Obama did not pick any of the obvious choice designers for the inaugural balls, but 10% of you picked Jason Wu in my poll, so well done to you.

The First Lady looked exquisite wearing a white chiffon one-shouldered gown by Jason Wu.

The gown had floral appliques, stunning beading, a full skirt and a long flowing train. Her Loree Rodkin jewels included a large diamond ring, bangles and 5 stone drop earrings.

According to Associated Press, "Wu said he sewed the dress himself as late as December. He said he sent sketches to Obama at the suggestion of Ikram Goldman, who owns the Ikram boutique in Chicago where Michelle Obama has been known to shop. He did not know she had selected the dress until she appeared in it, he said. "It's soft, feminine, but powerful; I wanted to convey all that in a dress", he said. "I wanted it to look like a sign of hope."

Jason Wu will be added to the virtual shelves of Net-A-Porter.com next month, which will be very exciting, both for us and the designer.

President Barack Obama wore a custom tuxedo made by Chicago-based designer Hart Schaffner Marx.

The Obamas were serenaded by very proud Beyonce during their first dance at the Neighborhood Ball, were she sang Etta James' At Last. I really admire her for finishing the song. I'm in floods of tears over here.

I adored the dress, but what did you think?
Source