Worst Dressed/Is It Meant To Be Funny? Cause I Ain't Laughing Award
Funny woman Sarah Silverman tried to inject a bit of humour to the red carpet, and ended up being the joke.
Converse on the red carpet? Really? Was your dress not tragic enough on its own?
Worst Herve Leger Award
Ooooh Heidi Montag will be so jealous that Amanda Bynes wore this hot pink Herve Leger Spring 2009 dress before her.
OK she looks great it in, but yawn. I'm so over this type of bandage dress. The newer styles I can handle, but this, NO.
Worst Strapless/I Tried But I Couldn't Love It Award
After Marisa Tomei's red Donna Karan dress from the People's Choice Awards, I was excepting to fall in love again.
Unfortunately I could not fall in with with her black strapless Giambattista Valli Fall 2006 dress.
On the runway, the dress looks fab, but Marisa just couldn't pull it off imo. The ruffle dominates her.
Worst Hair/Lipstick Award
Elizabeth Banks usually always looks amazing on the red carpet. Her Reem Acra dress is gorgeous, and the shoes compliment it well, but she ruins the look with a birds nest hair do, and shocking pink lips.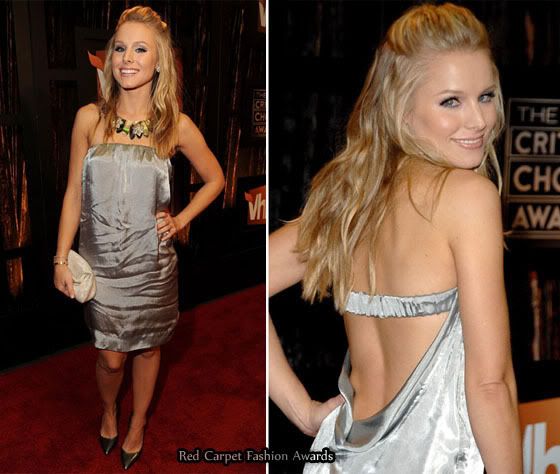 Best Forever21/New Look Award
Now there is nothing wrong with Forever21, nor New Look. I have shopped at both stores.
The clothes are cheap and disposable, and this is exactly how Kristen Bell makes this Stella McCartney Spring 2009 dress look.
She completed her look with a Fendi Mini Borderline satin clutch.
No Wow Factor Award
Penelope Cruz is an A list actress.
Like Theron, Diaz, and Kruger, they should be wowing us every time they step their Jimmy Choo's on the red carpet. They have Galliano, Lagerfeld and Valli on their speed dials, so they never have excuses.
I am not wow'ed. Not even close. I think it is mixture of feeling like I have seen this look on her before, and that she doesn't even look enthused to be there, kills my buzz also.
This is a B list actress dress at best.
Click here for the Best Dressed.