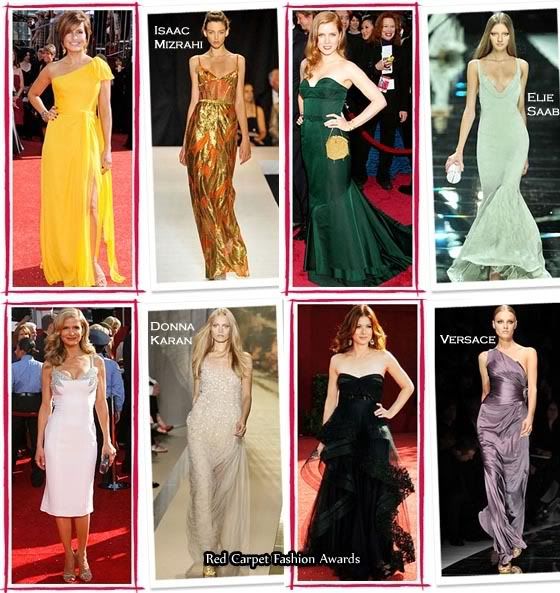 With the cancellation of last years Golden Globe Awards due to the writers strike, I am so excited about this years event, I'm about to implode.

InStyle have put together a red carpet wish list for the Golden Globes, which takes place this Sunday.

I love these list, but I don't always agree with all the picks.

The Good:

Mariska Hargitay – Their pick for a sequined multi-coloured Isaac Mizrahi would be perfect. The gold and burnt orange gives me that warm fuzzy feeling of a sun-setting.

Amy Adams – I love the low neckline of this Elie Saab dress, plus I think the pastel green would really make her glow.

Debra Messing – We have seen her in a lot of strapless dress, but not often in one-shouldered dresses, in fact just the once. This Versace dress would be a refreshing non-safe change for her.

Kyra Sedgwick – I love the colour of the Donna Karan nude embellished dress, it would look glorious against her sun-kissed skin and blonde hair. But I can almost guarantee that she will wear L'Wren Scott, as she often does for big occasions.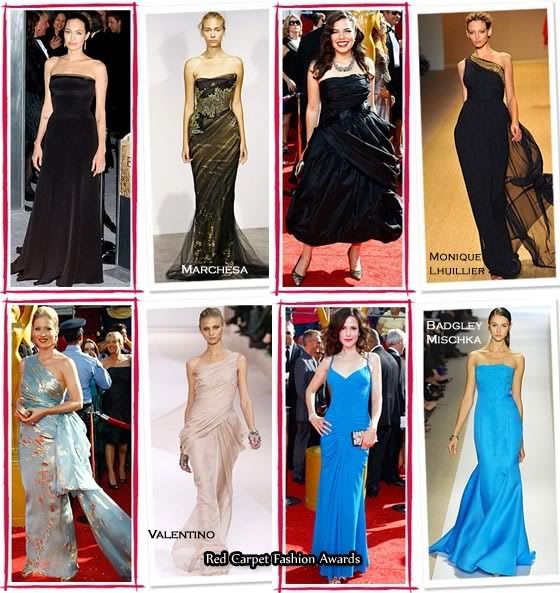 The One's I Would Not Pick:
Angelina Jolie – NO BLACK, not a single hint of black do I want to see her wearing on the red carpet. Besides I don't see her in anything from the Marchesa collection. I love what they do, but I think it might be too commercial for someone like Angelina.
America Ferrera – As above, NO BLACK. America is also someone who has relied on this colour heavily in the past. As much as I love Monique Lhilluer, I would have to say no to that as well, for exactly the same reason.
Christina Applegate – Although I love the Valentino dress InStyle picked, I have often wondered if it would make the wearer's – not a stick thin model – seem wider than they really are, because of the draping on the hips. For this reason, I would not pick this dress for anyone.
Mary-Louise Parker – She has been there, done that with this electric blue colour, so I would say no on this occasion. Other than that it would have been perfect for her.
Check out the full InStyle's red carpet wish list at InStyle.com.