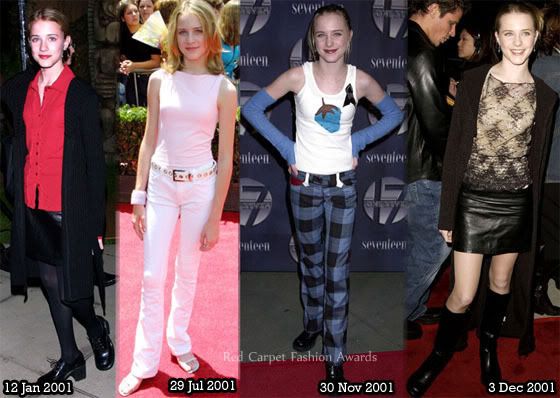 It has been a while since I did a Red Carpet Transformation post, and I could not think of any one better than Evan Rachel Wood, because her style has been a bit of a roll-coaster. As the young actress she tried to develop her own style and ended up….well just copying Dita von Teese's.

One of Evan's first red carpet appearances was at the ABC All Star Party back in 2001 when she was just 14.

Her look back then was age appropriate, and varied, with a small sign of Gothic tendencies, with her love for her black leather skirt.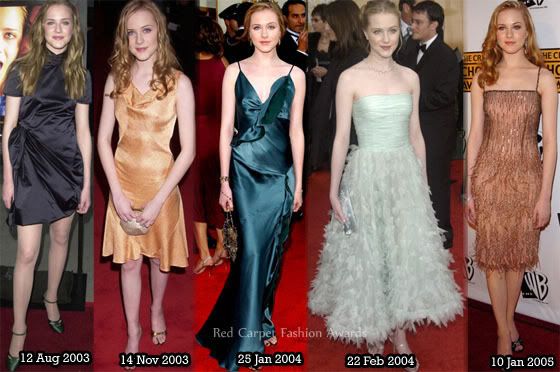 During 2003-2004, a teenage Evan Rachel Wood gained critical acclaim for her role as

Tracy Louise Freeland

in the hit movie

Thirteen

.

Her look was very much to be expected for a young girl walking the red carpet at some of the biggest events.

She was slightly awkward in an eggplant dress for the Thirteen premiere, golden at an event honouring Nicole Kidman, coming of age in a steel blue satin dress to the Golden Globes, fairy-tale princess-like at the SAG Awards, and looking very grown up in a nude flapper-esqe dress for the Critic's Choice Awards.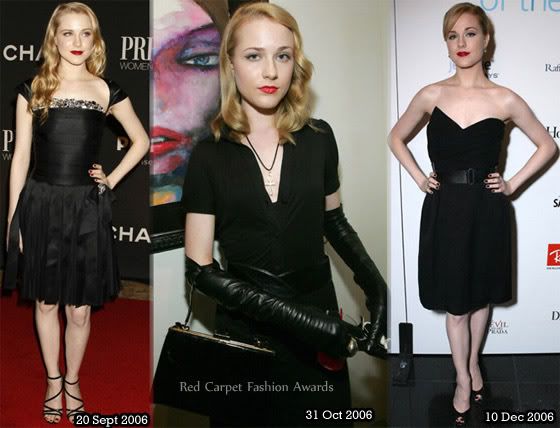 In 2006 we saw the start of her 'black' phase.

In October 2006, Evan and Marylin were first photographed together at The Nightmare Before Christmas 3D World Premiere.

Evan attended Marilyn Manson Art Gallery Exhibition on Halloween, wearing head-to-toe black, retro waves, and red lips. This you may say is when the transformation to a Dita von Teese clone began.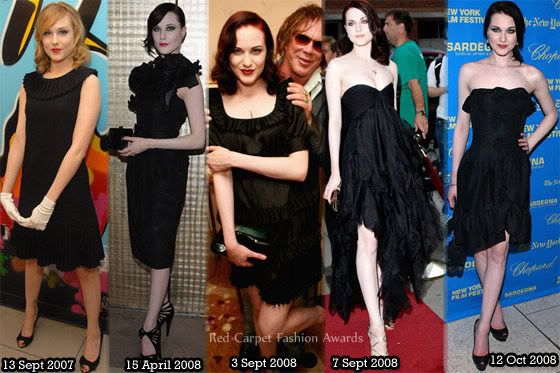 Dita von Teese filed for divorce on 29 December 2007, citing Evan Rachel Wood as one of the factors in the break-down of their marriage. Not long after Evan and Marylin went public, and so did her dark locks.

Some of you have tried to convince us 'none believers', that the darker locks was for a movie role, but we ain't buying it.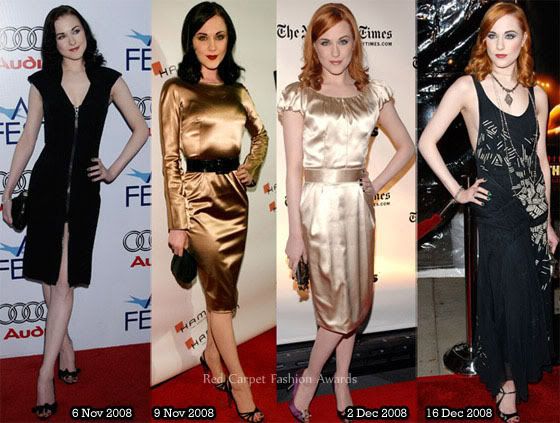 In early November it was reported that Evan Rachel Wood and Marylin Manson had split on October 23.

Shortly after that Evan incorporated some colour into her red carpet look, not once, but twice. Her hair also became lighter, as she showed off a gorgeous flame coloured 'do.

She has kept the retro waves and darker make-up, but it looks like she maybe finally starting to find her own identity.

I think there's not a lot wrong with being inspired by someone else's style. Victoria is inspired by Audrey Hepburn and Christina Aguilera by Lady Gaga, but basing your look on your boyfriend ex-wife is a little creepy.