Ladies Loved Lanvin on the red carpet this year. Celebrities could not get enough of Alber Elbaz designs.

Natalie Portman, who wore his signature tiered ruffle cocktail dresses many times on the red carpet at the Cannes Film Festival which kicked started the trend of wearing Lanvin on the red carpet this summer.

Padma Lakshmi and Natalie both wore 3 stunning Spring 2008 design's, with Carine Roitfeld wore my favourite billowing dress, with a large patent belt to nip in her waist.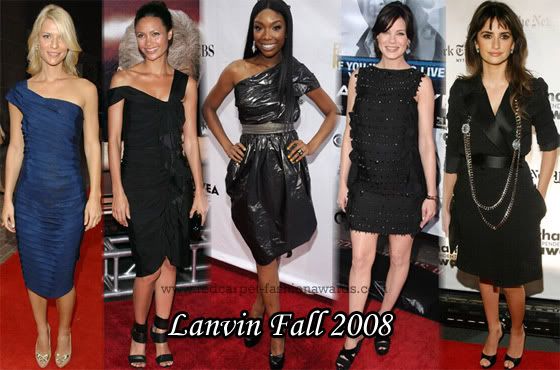 Lanvin

fever did not die down when the Fall 2008 collections hit the runway. Quite the opposite. Even more stars walked the red carpet in the dark, mysterious designs.

Elbaz even managed to make what appears to be a bin liner -as worn by Brandy- look good.

Herve Leger was last years winner, before we had Herve Leger overload.