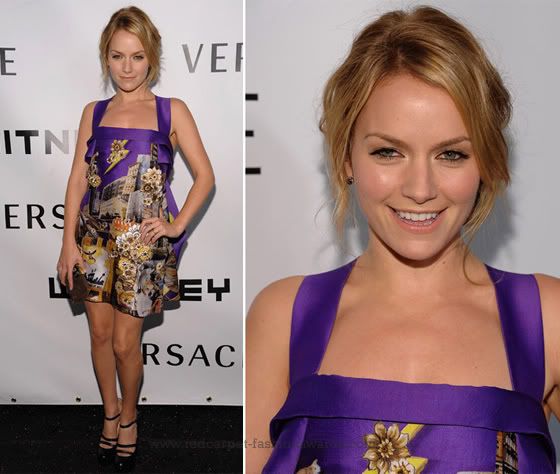 Finally someone has worn this multicolour lightning bolt and cityscape print Versace Fall 2008 dress.
I really enjoyed the selection of these dresses that were presented by Donatella, and I am happy Becki Newton has worn this purple one.
She wore her unique tank strapped dress with Versace black heels.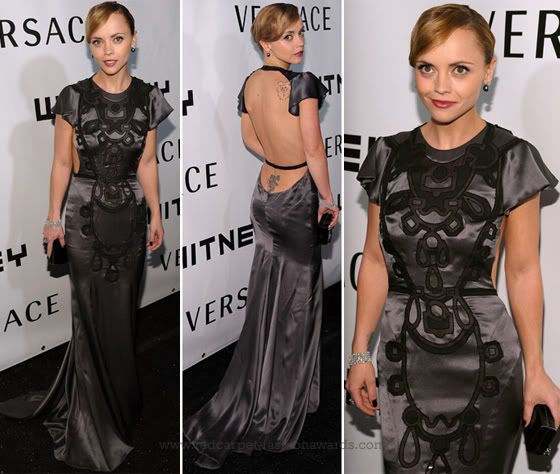 Christina Ricci opted for a backless Gothic-style grey Atelier Versace Fall 2008 dress, which could not be more perfect for her.
I love the embroidery detail.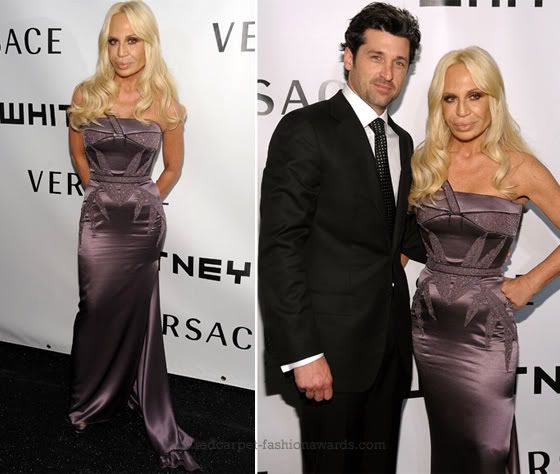 Actor Patrick Dempsey, who is the current face of Versace Fall 2008 menswear, posed with Donatella Versace, who as always looks a knock-out with her body to die for.
Of course her stunning lilac gown is totally unique and has not been seen on the runway.
Despite the simple and non-revealing (for her) nature of Mariah Carey's dress, I feel very underwhelmed looking at her in it.
Emma Roberts looks very grown up in this black shimmering strapless mini Versace bustier dress, with Jimmy Choo heels.
Jane Krakowski dares to wear this Versace Fall 2008 dress that has also been worn by Donatella herself, but totally look amazing in it.
The actress wore her midnight blue wet-look dress, with gold Louboutin's.
Juliette Lewis' Versace Fall 2008 fuchsia heels are working better for me than the beige Versace dress.
The dress feels a little tame for the wild star.
For the first time ever I feel that a dress works better on the runway than on Helena Christensen. I really don't think this Versace Fall 2008 asymmetric lace dress works on her.