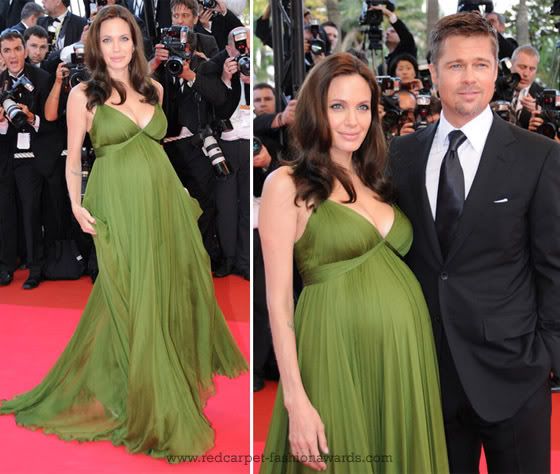 Last year at the Cannes Film Festival Angelina Jolie wowed us by wearing a yellow Ungaro gown, which I think was the first time we had seen her wear something other than black or grey.
This year she wows us again, mostly because she is pregnant with twins, but also because she is glowing in this forest green cleavage-baring chiffon Max Azria Atelier gown.
Aishwarya Rai was again on the red carpet, wearing a stunning nude beaded Giorgio Armani Spring 2008 gown with a matching clutch, which was spotted by High Heel Confidential.
This is Eva Longoria's second stunning Versace Couture Spring 2008 gown, although I do think this dress would be better suited to someone much taller, as the tulle skirt and train seem to overwhelm her.
This gorgeous one-shoulder ivory gown has silver beaded accents, which the actress wore with silver shoes.
Lucy Liu is exquisite in this soft pink Roberto Cavalli Fall 2008 gown, embroidered with mother-of-pearl flowers. The colour compliments her skin well.
Whilst everyone wore gowns, Rachel Leigh Cook wore this strapless empire-jewel-waisted cocoon-type dress. This was a perfect choice for the young actress.
Australian singer Natalie Imbruglia, opted for a fuschia Alberta Ferretti plunge-neck and backless dress.
She is at Cannes to promote Elise a new Australian indie film.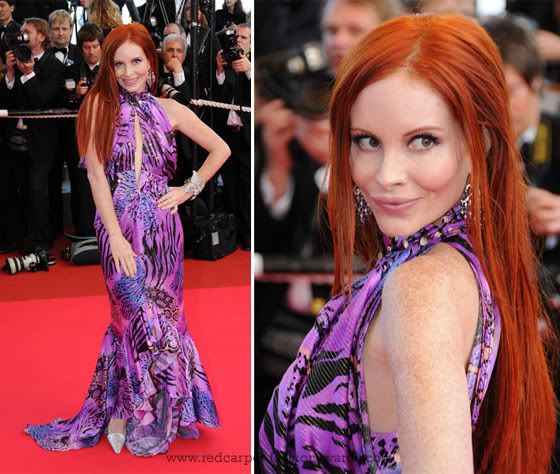 For those of you who wonder why since I started this blog Phoebe Price has been #1 on my Fashion Failures list, please witness Exhibit A.